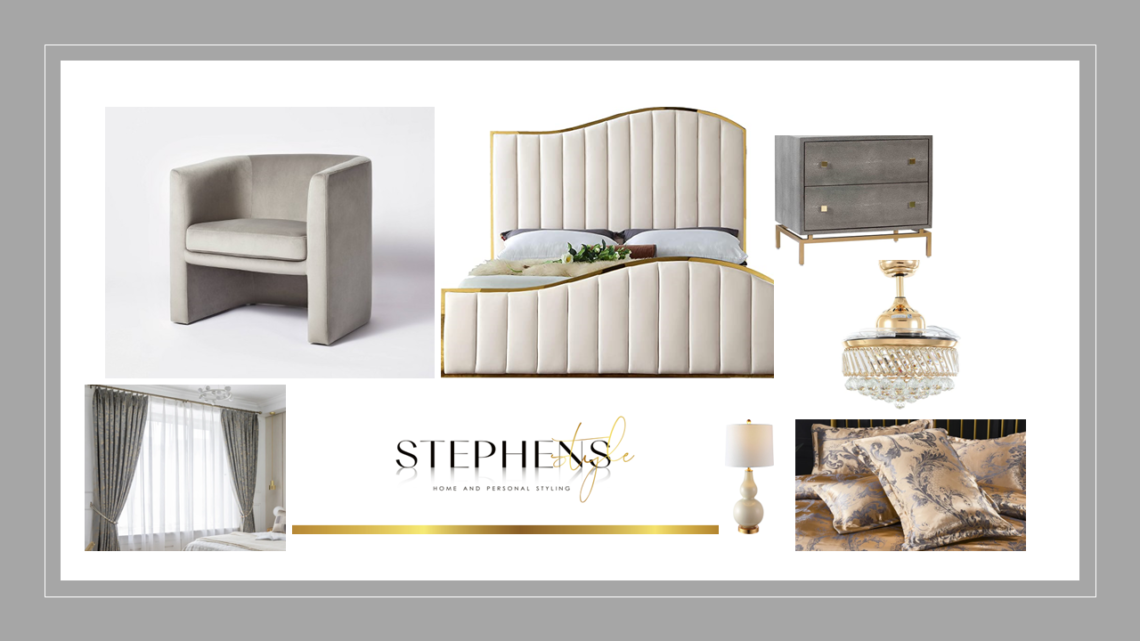 Modern Glam Bedroom Design
Isn't if funny how the main bedroom of the house is usually the last room to get done? Is it because it's the least seen room in the home? Is it because we don't prioritize the importance of the space the way we do the living room or the kitchen? Probably. I know for myself, I've been in my home for 2 1/2 years now and it's not even CLOSE to where I'd like it to be. Don't get me wrong, it's good enough but man, do I have a vision for what I want it to look like and well, there just always seem to be other projects that need to be taken care of first. I will tell you though, my bedroom is my favorite place to be. I had surgery recently and have found my office set up from bed to be a pretty sweet way to spend the work day. It's not uncommon for me to spend weekend mornings watching my favorite design and cooking shows with a cup of coffee in bed. It's just my cozy place and while it's not exactly where I want it to be from a design perspective, it's still incredibly comfortable and soothing and brings me so much joy.
I had a client reach out to me who has gone through some major changes in her life. She's newly divorced and also a recent empty nester. These types of changes would be daunting for anyone, even one at a time but she's chosen to see them as an opportunity to embrace and implement the things she's put on the back burner during all of her years of being a wife and mother, something most of us women can relate to. One of those dreams is to have a beautifully decorated bedroom, someplace she can rejuvenate her spirit and do so in a way that is unique to her taste and needs.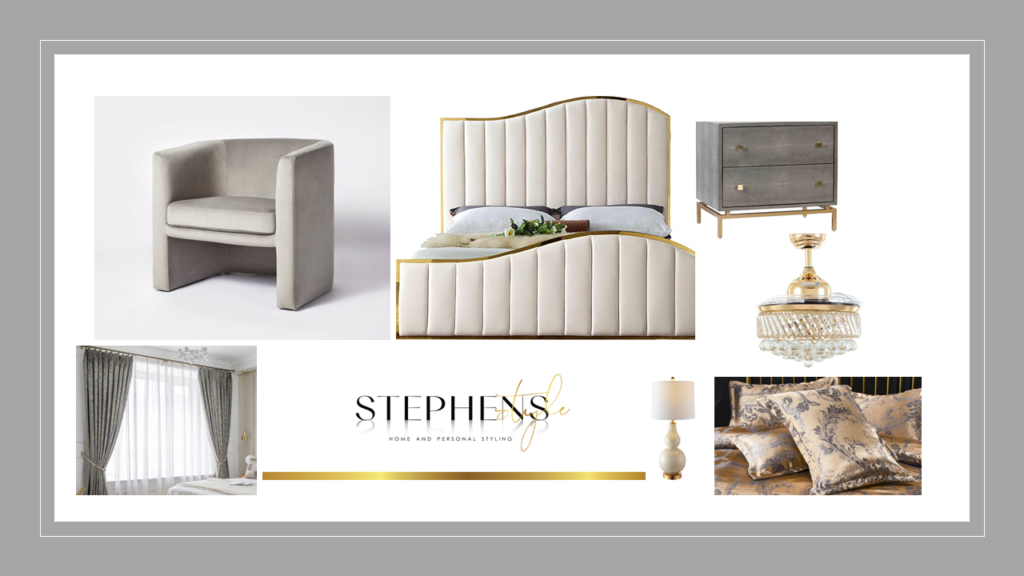 Her design criteria:
Neutral
Sophisticated
Glamorous
Soothing
Soft
Feminine
So we started with some basics and will build around them as they get installed. We went with a soft creamy velvet upholstered bed with subtle gold accents. This will allow her to keep an neutral background should she decide she wants to add more color later on as her taste may change. The simple gray/gold night stands compliment the bed beautifully as do the custom silk and velvet window treatments and custom silk bedding which really kicks the glam level up a notch. And because we live in Texas where ceiling fans aren't an option, they're a necessity, we decided on a glam Fandolier which adds just the right amount of bling to the room. When it's off, it just looks like a gorgeous light fixture but can be functional as a ceiling fan with just the click of a remote. Two velvet side chairs will fit perfectly as a small seating area in the little bay window, just the spot for morning coffee before she begins the day.
We'll finish the room off by reframing some of the beautiful art pieces she's collected throughout her travels in life which will add the perfect amount of color to the space and with that, the room will be a reflection of her.
So you may be wondering how this design process works. We start with an initial consultation to go over your wants, needs, budget and examine how you live. From there we can determine which type of design help you need, in person or virtual. In this case, we went with a virtual option which is a simple flat fee per room in which I provide 2 design board options with up to 2 revisions. Upon the approval of your board, I then send you the links to the items listed which you can then order as your time and budget allow. I find that people love this especially if your budget needs to be stretched out over time rather than buying all at once. It's just that easy.
If you'd like help designing your personal space or if you'd like more information, shoot me an email and let's talk about it!